Isaiah 38:4 says, "Then the word of the Lord came to Isaiah: Go and tell Hezekiah, This is what the Lord, the God of your father David, says: I have heard your prayer and seen your tears; I will add fifteen years to your life."
The Origin Of God's Word: Is God
Isaiah was an ordinary human being, a man who was borne of flesh and bone.  He had a mother, father, wife, children, and neighbors.  And as he grew into manhood, we are allowed to witness God using him, a man; as a means of self disclosure.
God chose Isaiah amid countless other human beings and revealed himself, in the form of a special revelation that transcends all time; it transcends all cultural, ethnic, tribal, language and geographical boundaries.
The special revelation is the word of God!
Isaiah 6:1-8 says, "In the year that King Uzziah died, I saw the Lord seated on a throne, high and exalted, and the train of his robe filled the temple. Above him were seraphs, each with six wings. With two wings they covered their faces, with two they covered their feet, and with two they were flying.
And they were calling to one another: Holy, holy, holy is the Lord Almighty; the whole earth is full of his glory. 
At the sound of their voices the doorposts and thresholds shook and the temple was filed with smoke.
Woe to me! I cried. I am ruined! For I am a man of clean lips, and I live among a people of unclean lips, and my eyes have seen the King, the Lord Almighty.
Then one of seraphs flew to me with a live coal in his hand, which he had taken with tongs from the altar. With it he touched my mouth and said, See, this has touched your lips; your guilt is taken away and your sin atoned for.
Then I heard the voice of the Lord saying, "Whom shall I send? And who will go for us?  And I said, Here I am, Send me!"
In the life and writing of Isaiah, we come face to face with God's self disclosure. We also discover that God knows human beings; their faith, beliefs, sins, hearts and minds. He knows the intimate details of our lives. 
God knowing Isaiah, his mind and heart visits him in a vision or dream, allowing him to see into heaven. And what his eyes see, and ears hear reveal God's temple, God's throne and living creatures unknown to human beings, worshiping and praising God.
And so, Isaiah and men like him were known as prophets, visionaries, and men of God.  These men of earthly origin were selected to inform, remind and warn people and nations that their creator watched over them acknowledging, and responding to their actions and way of life and living.
And so, in the book of Isaiah, as well as the other prophetic books the Divine is speaking to us, and we must never delude ourselves into thinking that Divine speaking is human speaking.  There are similarities between Divine speaking and human speaking, the difference being the origin of the words.
Divine speaking manifest in the testimony of the prophets throughout the bible. The Divine Word, that is, God communicates His word in and through dreams, visions, voices out of clouds, and encounters with strangers, as well as directly to the human mind.
The Divine word transcends the infinite and enters the finite world of human existence in a form that human beings can understand; it takes on the from of human language; language that the human mind can understand.
The Divine word; that is, God's word takes on the form of words and symbols that human being use to communicate. The Divine is made known to human beings in every word God speaks in the Old Testament.
Scripture says, "The word of the Lord came to Isaiah."  God is the speaker of the Divine word, and the one to whom the Divine word is given, is God representative.  The power of the word spoken by God is not some mysterious power which the spoken word possesses; it is the power of God.
God maintains an ongoing relationship with the Divine word in the sense that it is God's work and power that fulfills His word, not the word's power.
We must try and understand that the Divine word becomes an active reality in the life of the prophet, but its origin is not the prophets own mind; it's origin is God. (Isa. 55:10-11)
Reflection: The word of God contains promises and judgements; it is proclaimed by ordinary people who are chosen to represent God among human beings living on earth. The word, guided and empowered by God, finds the faithful and calls them to repent for their sins; so that, God's gift of life defeats hopelessness and death.  The victory is in the Divine word; i.e., God's word.
The main concern of God's word; likewise God's main concern is the salvation of as many people as possible. God does not just appear in a dream or vision, speak the word, and then leave or disappear.  God imbedded the word in the prophet, so that, people not only hear the word of God from the prophet, they see the word enfleshed in their midst.  The word of God is not a disembodied word; it enters the person, so that, the spoken word ushers human beings into a personal encounter with God.
God Hears Hezekiah
Hezekiah was the thirteenth king to take the throne in Judah in or about 716 B.C., and goes down in the history of Israel as a good king.  The nation of Israel began as a United Kingdom, but became a Divided Kingdom in about 731 B.C.
King David, King Saul, and King Solomon reigned over the United Kingdom. But when the Kingdom divided; in the Northern Kingdom (Israel) and the Southern Kingdom (Judah), there were good and bad kings.
The good kings were men who followed God's laws.  They outlawed altars that were built to honor pagan gods. The destroyed the high places upon which human sacrifices took place, and disallowed idol worship.  They governed the land and people in keeping with the covenant God made with Moses.
Hezekiah was such a king.
Isaiah 38:1 says, "In those days Hezekiah became ill and was at the point of death. The prophet Isaiah son of Amoz went to him and said, "This is what the Lord says: Put your house in order because you are going to die; you will not recover."
Upon hearing this, Hezekiah seemed turn his head and look toward the wall. He was probably laying in bed facing the prophet and others; and after Isaiah told him what God said, he turned away from everyone present and prayed as tears flowed from his eyes.
In his prayer, he says to God: "Remember, O' Lord, how I have walked before you faithfully and with wholehearted devotion and have done what is good in your eyes."
Hezekiah can say to God, I have walked faithfully, been devoted, and done good in your eyes.  We can almost here him saying, I have given my life in service to you and your people.  I am dying, please let me live so I can finish my work.
2 Kings 20:4 says, "Before Isaiah had left the middle of the court, the word of the Lord came to him, "Go back and tell Hezekiah, the leader of my people, this is what the Lord, the God of your father David says, I have heard your prayer, and seen your tears: I will heal you. On the third day from now you will go up to the temple of the Lord. I will add fifteen years to your life."
Isaiah left Hezekiah's bedside, and was leaving the palace. He made it to the middle court when the Word of God came to him once again, instructing him to tell Hezekiah that that the Lord heard his prayer, and was extending his life for an additional fifteen years.
Hezekiah received an immediate response from God.  So that, as Isaiah was leaving the palace, God gave him the answer to Hezekiah's prayer. Isaiah returns to Hezekiah's bed chamber and informs him that the Lord heard his prayer.
Genesis 4:26 says, "At that time men began to call on the name of the Lord." Early in the history of human beings, we began to call on the name of the Lord. This is no doubt a reference to prayer.
Hezekiah believed in the power of prayer.  He believed that prayer allowed him to communicate with God.  Thus, here in Hezekiah's life we wittiness the power of God's word.  In God's spoken word to Isaiah, Hezekiah's prayer is answered. 
The answer of Hezekiah's prayer then becomes the manifestation of God's word as he is healed and his life extended.  In addition, God's spoken word declared that signs would accompany the fulfillment of his word.
Isaiah 38:7 says, "This is the Lord's sign to you that the Lord will do what he has promised: I will make the shadow cast by the sun go back the ten steps it has gone down on the stairway of Ahaz. So the sunlight went back the ten steps it had gone down."
Reflection: It's all right to cry; it's all right to submit to our powerlessness over sickness, suffering and death.  Likewise, it's all right to pray and ask God to heal us from sickness and deliver us from the jaws of death.
Its all right to humble ourselves and pray: God's word says, "if my people, who are called by my name, humble themselves and pray and seek my face and turn from their wicked ways, then I will hear from heaven and will forgive their sin and heal their land."
The power of God is present in his word; God is present in his word to fulfill all that he has spoken. Our faithfulness and devotion to God empowers our prayers, allowing the power of God too manifest in our lives.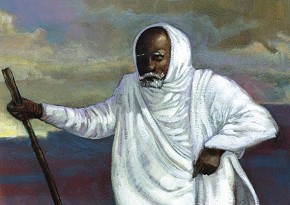 Prayer
Lord, James the brother of Jesus said, "Confess your sins to each other and prayer for each other so that you may be healed. The prayer of the righteous is powerful and effective."
Lord, we pray for an end to hunger and starvation.  We pray for healing, and an end to disease and sickness.  We pray for an end to poverty and helplessness, and hopelessness.  We pray for an end to enslavement, oppression and human exploitation.  We pray for an end to the destructive ways of racism and hate.
Deliver us Lord, save us Lord, restore us Lord; In the name of Jesus heal our bodies, minds, hearts, souls and the world we live in.  Please, Lord make us better people, make this world a better place. Open the windows of heaven, and shower all the people on earth with faithfulness and devotion to you, O' God, is our prayer; in Jesus name. Amen