The congregation of Glen-View East United Methodist Church celebrates in worship at the Tichagarika Shopping Center in Harare, Zimbabwe. The church holds lunch-hour services at the market on Wednesdays and Saturdays. Photo by the Rev. Taurai Emmanuel Maforo, UM News.
Within the hustle and bustle of the Tichagarika Shopping Center, the petite Rev. Varaidzo Masukume is transforming lives through lunch-hour prayer meetings.Masukume was appointed pastor in charge of the Glen-View East Circuit in January.

Vibrations of high-pitched tones, clapping, dancing and wailing fill the shed built with tin and wooden poles to create an electric worship atmosphere.

"Lunch-hour ministry for market traders is a game changer for our connectional ministries," said the Rev. Vienna Mutezo, Zimbabwe West Conference connectional ministries director. "Worshipping in temporary structures, as in the case of Glen-View East Circuit, is no deterrent to innovative ways of doing ministry."

Over 200 vegetable vendors, market stall owners and worshippers around the community converge during their lunch hours every Wednesday and Saturday.

Commonly known as "Tichaz," Glen-View's Tichagarika Shopping Center is roughly 15 kilometers (about 9 miles) from Harare's Central Business District. The area is busy day and night with vegetable vendors often still selling at their stalls around midnight. Drug peddlers and prostitutes also frequent the area.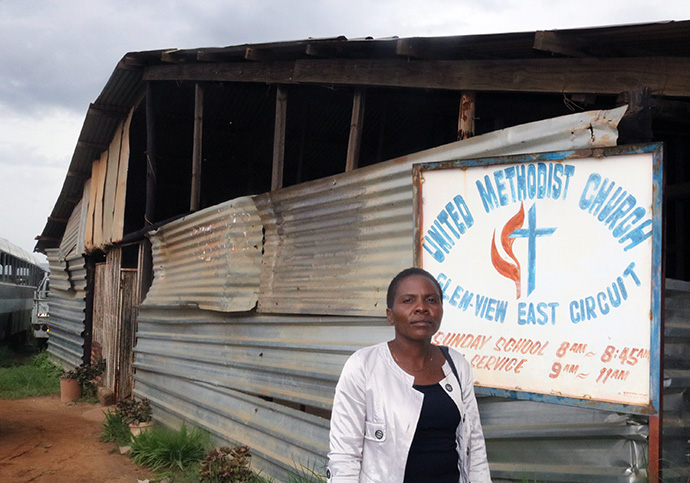 "The Great Commission calls us to go to the entire world with the Gospel, and as a church we feel obliged to take the Gospel to the marketplace. In fact, the lunch-hour service is our way of giving Jesus to Tichaz," Masukume said.
She said the church was never intended as a place only for saints, but for sinners, too.
"Remember, we are the people of The United Methodist Church whose thrust is open doors, open hearts and open minds," she said.
The church opened the prayer meetings to members of various denominations and non-Christians who sell wares at the crowded marketplace.
The pastor said she realized the need for a lunch-hour ministry in the community because most people in the markets trade throughout the week and may not find time to attend a worship service.
"I close my market for that hour and rush for the lunch-hour service because it keeps my spirits alive, especially in this harsh economic environment," said Agnes Wazara, a flea market trader. Wazara is a member of Apostolic Faith Mission in Zimbabwe.
"I have seen amazing results. I close my business for that one hour and when I come back from the prayer, more customers come to buy from my table," she said.
Prisca Garwe, 71, a United Methodist church member for more than 40 years, is amazed at the new ways of doing ministry.
"I never thought the church can do such wonderful services outside our normal Sunday worship," she said.
"I have been healed. My feet are made stronger and I can stand and dance without any slight feeling of pain," she said. "I see new faces walk into our church on Wednesdays and Saturdays. Daily we see more, we experience and we come expecting more."
For United Methodist congregations in Zimbabwe, economic challenges have not derailed church vitality. The church continues to breathe life and open its doors to new members and plant churches in new suburbs, said Mutezo.
"Our churches in the high-density (areas) have maintained high levels of vitality in spite of the harsh economic environment prevailing in the country. We attribute this to the creative ministries happening at the local church."